Digital Lighting Systems, Inc

Basic Lighting Control System example
Simple and affordable advanced dimming systems.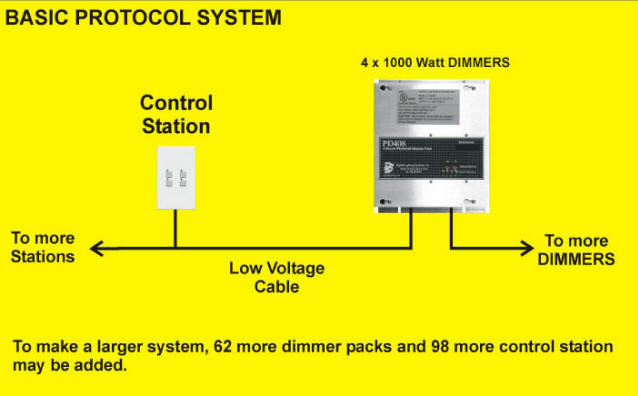 The smallest Protocol dimming / switching system can be economically built using one PSF Series wall station Keypad and one PD Series Dimmer ( or one WISH4 ) Ideal for school and college classrooms , conference rooms, Home theatres, etc....
This simple and inexpensive arrangement allows the Protocol to be used in small installations. By eliminating the high cost of a CPU (Central processing unit ) required by other lighting control systems, the entry level cost is affordable.
The sophistication, convenience and benefits of the PROTOCOL Lighting control system has almost the same price as traditional old fashioned wall switches and dimmers. Because of its versatile modular design, expanding the lighting control system is as simple as connecting additional stations or dimmers to the system's bus.
1 x PSF08 8 button station Base $162.00
1 x FPF08 8 Buttons face plate $ 21.00
1 x PD404 4 x 480 W dimmer pack ( UL listed ) $375.00

End user net cost $ 558.00
Click here for PROTOCOL System Pricing or call 305-969-8442 for a free system consultation and quotation.

Digital Lighting Systems At: (305) 969-8442, or [E-mail Us]